NAGC members get new, bigger FedEx discounts.

START SAVING*
We understand it's tough right now, and we're with you for the long haul.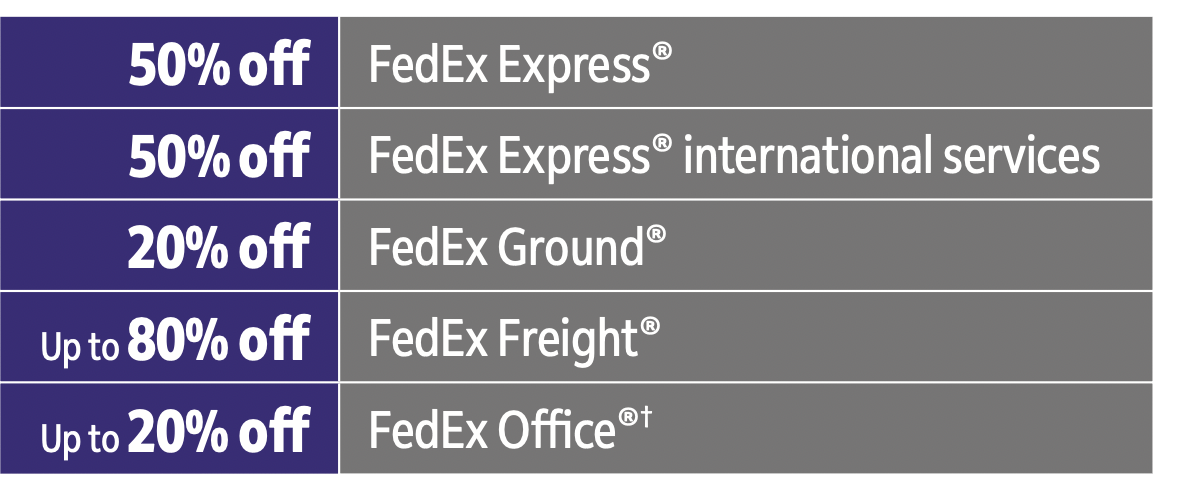 Our friends at FedEx understand how tough it is for our members right now. That's why you can now save 50% on FedEx Express® shipping and 20% on FedEx Ground when you enroll today.† Plus, FedEx delivers every day of the week to help you compete online. They're also investing in you and your community with My FedEx Rewards and the annual FedEx Small Business Grant Contest.



To enroll,
Register Online
or call 1.800.475.6708.
*FedEx shipping discounts are off standard list rates and cannot be combined with other offers or discounts. Discounts are exclusive of any FedEx surcharges, premiums, minimums, accessorial charges or special handling fees. Eligible services and discounts subject to change. For eligible FedEx® services and rates, please call 1.800. GoFedEx 1.800.463.3339. See the applicable FedEx Service Guide or FXF 100 Series Rules Tariff for terms and conditions of service offers and money-back guarantee programs. Subject to minimum charges set forth in the FedEx Service Guide which can be found at fedex.com. †FedEx Office black & white copy discounts are applied to 8 1/2" x 11", 8 1/2" x 14" and 11" x 17" prints and copies on 20-lb. white bond paper. Color copy discounts are applied to 8 1/2" x 11", 8 1/2" x 14" and 11" x 17" prints and copies on 28-lb. laser paper. Discount does not apply to outsourced products or services, office supplies, shipping services, inkjet cartridges, videoconferencing services, equipment rental, conference-room rental, high-speed wireless access, Sony® PictureStationTM purchase, gift certificates, custom calendars, holiday promotion greeting cards, postage, and custom branded boxes. This discount cannot be used in combination with volume pricing, custom-bid orders, sale items, coupons or other discount offers. Discounts and availability are subject to change. Not valid for services provided at FedEx Office locations in hotels, convention centers and other non-retail locations. Products, services and hours vary by location. FedEx Office is a registered trademark of FedEx.